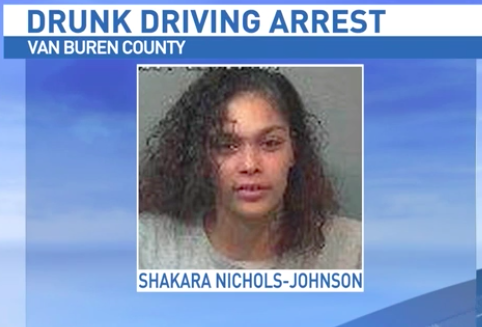 **Update**911 caller helps stop possible drunk driver in Bangor
(News Channel 3 – WWMT)
http://wwmt.com/news/local/911-caller-helps-stop-possible-drunk-driver-in-bangor
Wednesday, April 5th 2017 — Police are crediting a Bangor man for helping them track down a drunk driver. 26-year-old Shakara Nichols-Johnson was arrested on Friday March 31st for allegedly driving drunk. Newschannel 3 spoke to the man who called 911 dispatchers.
Lucas Koenig was driving westbound on M43 near Bangor last Friday when he saw a car driving erratically. He says it was swerving back and forth and nearly hit his car and other vehicles.
"She crossed the center line. They swerved around her. She came back across behind us almost clipping us," Koenig said.
Koenig said someone needed to act to get that driver off the road, so he called 911. Police later identified the driver as Nichols-Johnson, and inside the car with her was a four-year-old girl.
"Told [dispatchers] that there was something seriously wrong. She almost hit two vehicles at that point already, and I didn't think she was going to make it into Bangor without hitting somebody head on," said Koenig.
Koenig knows the Bangor area well, so as he followed Nichols-Johnson he clearly communicated to dispatch where they were, what car she was driving, and what she looked like.
He said, "So we were able to maintain visual on her until the Bangor Police intercepted her at Speedway."
At the Speedway gas station Bangor Police administered a breathalyzer test and say Nichols-Johnson was above the legal limit. Chief Tommy Simpson says the public can learn from Koenig's actions.
"I feel like anybody in that situation, if you see something like that, you need to report it," Koenig said.
Nichols-Johnson was arrested and charged with operating while intoxicated with a child under 16 in the car. She was also driving on a suspended license.