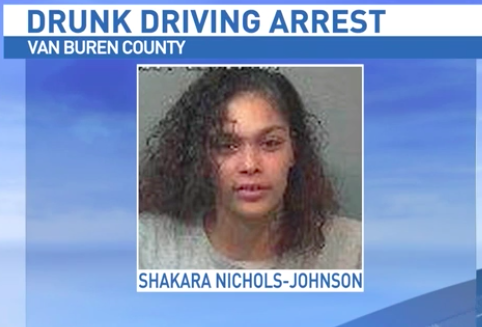 Drunk Driving Arrest – 4yr old in car
(Click Here for News Channel 3 post and video)
Bangor, MI (NEWSCHANNEL 3) – A Kalamazoo County woman is in jail accused of driving drunk with a 4-year-old in the car.
Newschannel 3's Christine VanTimmeren reports from Van Buren County, where the suspect is still in custody.
Not only do police say 26-year-old Shakara Nichols-Johnson was intoxicated… But the 4-year-old girl in the car was not in a car seat. Nichols-Johnson is sitting in the Van Buren County jail after being arrested on March 31.
Bangor Police said 911 calls started coming in just before 2 p.m. about a woman driving erratically on M-43 toward Bangor.
Bangor Police Chief Tommy Simpson said, "The calls were the person was driving at excessive speeds, nearly running off the road. Running people off the road."
According to the police report, witnesses said Nichols-Johnson crossed the center line and almost hit an oncoming vehicle.
Witnesses followed her to the Speedway Gas Station where police caught up and found a 4-year-old girl asleep in the back seat of the car.
Simpson said, "She wakes up to an officer, that's got to be scary."
Police said that Nichols-Johnson agreed to field sobriety tests and a breath test and she blew just over the legal limit.
Initially, police said she gave them a fake name and said she was the girl's mom, but it was later determined she was not the girl's mom and police took the 4-year-old from the scene. Police later determined the Nichols-Johnson was the girl's step-mother.
Simpson said, "She was taken to our city hall where our city manager and city clerk took care of her while we handled this."
Simpson said all of that is a very dangerous combination for her and the 4-year-old girl.
He said, "Busy highway, heavy traffic, mixed with alcohol and who knows what else and an unrestrained 4-year-old."
Police said Nichols-Johnson initially gave a false name, doesn't have a valid driver's license and has three outstanding warrants out of Kalamazoo County. She is being held in the Van Buren County jail on bond.
Simpson credits the witnesses who called 911 and followed Nichols-Johnson for possibly saving lives.
He said, "And then once we were there got in contact with us and giving us the full information that really helped out."
-News Channel 3